The learning challenges are innovative insofar as they are based on everyday life in target countries. In order to create high quality OER learning materials and design challenges addressing specific needs of the newcomers looking to overcome difficulties settling in and immersing in the culture of their new country of residence, teachers with experience working with migrants, local communities as well as the end users had an active role in working on the challenges.
Thematic areas
Challenges are accessed on the OER Town application via QR codes and lead to interactive learning experience supplemented with multimedia materials and linked to its location in the town.
So far the consortium produced 981 challenges in 16 thematic areas.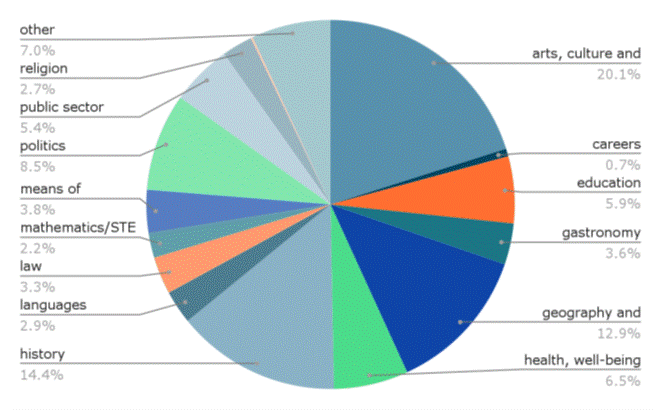 Linguistic coverage of challenges
The learning materials for the OER Town app were created in 8 languages: English, Spanish, German, Greek, Italian, French, Basque and Occitan. The consortium made a conscious choice to include the regional languages of the Basque Country and Occitania which belong to the cultural
landscape of both France and Spain.
Geographical coverage of challenges
The challenges are created for 5 European countries of the project consortium and placed in 9 European cities: Berlin, Athens, Palermo, Pau, Bilbao, Bayonne, Vitoria-Gasteiz, Sapes and Assat
Let's Work Together!
If you like to create your learning challenges in your town/area, feel free to contact us.